How to Prepare your Business for a Hurricane
There are currently three named storms in the Atlantic Ocean (Hurricane Florence, Helene, and Isaac). There is an additional storm near Hawaii (Hurricane Olivia) in the Pacific Ocean.  When speaking with NBC News, Phil Klotzbach; an atmospheric science researcher at Colorado State University said, "The thing that's interesting now is the Pacific is still active, but the Atlantic is very active, which isn't normal.  I'm surprised to see the Pacific and Atlantic active at the same time." Because of this active season, it is important to prepare both your home and office for the damages of a tropical storm. With September being National Preparedness Month, it is a great time to prepare your business for a natural disaster. Here are six ways to prepare your business for a Tropical Storm.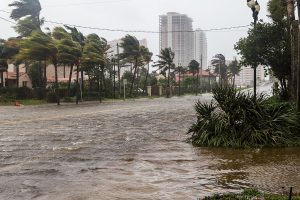 Take before and after photos
Taking up to date photos can help for a number of reasons. Most importantly, it is a record of the condition of your property and equipment prior to a storm. If you have not taken thorough pictures of your property, or have not taken them recently, now is the time to take an inventory of the property and equipment your business depends upon.
Call your Insurance Agent
If you have not done so already, now is a great time to give your insurance agent and carrier a call. If you decide to take a photographic inventory of all property and equipment, it may be beneficial to put these photos on file with the insurance carrier. The carrier should have information that may help you prepare for and deal with an emergency. In the days after the hurricane, people within the insurance industry may be very busy. Getting ahold of them at that time may not be an easy task.
Create a Disaster Kit
If you have not already done so, now is the time to create a disaster kit.  What is included in a disaster kit may vary based upon where you are located. In New York or Massachusetts, the contents of a disaster kit may be very different from the contents of a kit in Southern Florida. Most all kits should include adequate food, water and other supplies to last for 72 hours. Additionally, batteries, first aid supplies, medications, and alternative sources of power should be include in most disaster kits.
Develop a Communication Plan
When a Hurricane strikes, cell reception is commonly not reliable. Having a plan for how you are going to communicate with your employees is crucial to get necessary messages to all of your staff. Finding out what forms of communication your staff likes to use is important to determine before a disaster occurs. Some employees may prefer a text, others want an email, some may want an old fashioned phone call to their landline (Some people do still have landlines). You can find out how to best get ahold of your staff if you test your communication plan in advance.
Create a Business Continuity Plan
If you do business regionally, nationally, or internationally; one thing you will notice quickly after a hurricane strikes is that life keeps on going in other parts of the country. Even though life has essentially stopped in or near the hurricane impacted area, customers in other areas still need to keep business moving. If your business provides necessary services for businesses in other parts of the country or if you ship products that other businesses depend upon, you need to have a plan in place to get the business up and running quickly after a hurricane. Most people will understand if there is a slight drip in service while you are dealing with the after effects of a natural disaster. Regardless, the quicker you can get the business back up and running the less likely you are to lose customers.
Keep your insurance info and other vital docs safe
Vital documents and key phone numbers may be crucial when it comes to responding after a hurricane has struck. Vital documents include articles of incorporation, deed to any properties the business owns, contact information for key local businessman, customers, partners, and your insurance agent. Being able to get ahold of these people and to have the documents needed to get your business whole again quickly.