Lawncare and Landscaping Companies have unique challenges many other industries do not face. A few of the largest risks businesses face within this industry are high employee turnover, excessive amounts of time driving, and the use of highly specialized equipment. Here are five not so common insurance policies most Lawncare and Landscaping Companies should consider when purchasing commercial insurance.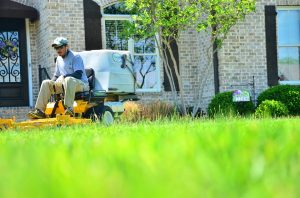 General Liability Insurance for Lawncare and Landscaping
General liability Insurance, along with workers compensation, are the two types of insurance most businesses start with to protect their investment. This is because in most states, these two coverages are required by law for most businesses. General Liability will cover your business for property and and bodily injury liability your business faces involving third parties not associated with your business. This can be as simple as a rock from your lawn mower flying up and hitting someone while an employee is mowing to even something as complex as a business in another city on the other side of your state claiming you are using the same business name as they are and sewing you for damages. The one thing to remember when purchasing this policy is that it is not all encompassing. It is important to speak with your insurance agent about the limitations of this policy and what additional coverages you may need.
Employee Dishonesty Coverage
Unfortunately, in the Lawncare and Landscaping industry high employee turnover is a normal part of the business. Because of this it is difficult to ever truly trust all of your employees. Your employees are frequently working under minimal supervision on the premise of third parties. These employees are put in tempting positions frequently where they have the opportunity to steal from your clients. If you stay in business long enough you more than likely will experience employee theft. For this reason, it is important for you to consider securing an employee dishonesty insurance policy.
Business Personal Property for Lawncare and Landscaping
Business Personal Property is a type of insurance coverage that covers nearly all items of value at your businesses property that are not considered a structure, fixture, automobile, watercraft, or aircraft. That is a pretty general description, but depending upon the specific policy it could include items such as desks, chairs, tools, equipment, appliances, furniture, etc. BPP also covers Mobile Equipment like bobcats, forklifts, and other mobile pieces of equipment that are not meant for use on public roads and are not required to be licensed with the Department of Motor Vehicles. This coverage would cover these pieces of equipment when they are stored at your facility.
Inland Marine Coverage
Inland Marine Insurance Coverage is designed to cover specialized equipment that is frequently in transit. Because of the remote nature of the Lawncare and Landscaping Industry, for most businesses most all of the work is done at a third party location. This creates a unique risk most other businesses do not face. This is unique risk exists because  your specialized equipment (mowers, weed eaters, chainsaws, etc.) is located or being transported to a remote location, it is not protected under a commercial property or business personal property policy. This is because the business has less control of what people do on the third party location. Because it is not protected under those policies it is important to consider purchasing and inland marine insurance policy.
Umbrella Insurance for Lawncare and Landscaping
A reality of the Lawncare and Landscaping Industry is that a lot of the risks faced by businesses in this sector have the potential to be expensive. A worst case scenario would be that an employee gets in to a wreck while driving your company owned vehicle. The wreck results in a totaled truck, several damaged mowers, and results in two severely injured passengers in the other car. Now depending upon the policy you have in place, these damages may exceed the limits of the policies you have in place. An umbrella insurance policy is designed to cover additional costs on top of other covered losses. The key to this policy kicking in is that the original loss has to be a covered loss, but the covered loss exceeds the limits of the policy. If there is a claim that is not covered (like a flood, fire, hurricane, or tornado) the umbrella will not kick in in place of this lacking coverage. The umbrella policy will only kick when a policy is in place and it does not have enough coverage to cover the entire loss.