Here are Six Ways To Save on Workers Comp Premium
There are many aspects of a business that determine what a business pays for workers comp premium. Some of the factors, are not controllable. Take for instance the state you operate in or the industry you operate in. Other factors are a direct reflection of the actions of the business. An example of this is the amount of insurance claims a business has in a particular year. Here are six steps a business can take to limit what they pay for workers compensation insurance premium.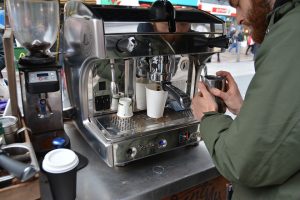 Partner With an Independent Insurance Agent
Partnering with an independent insurance agent is the best way to get the most comprehensive coverage at rock bottom rates. This is because an independent agent has access to multiple carriers and they know which carriers are hungry to quote certain coverages or industries. This knowledge can help them quote your policy with the carriers who are actively seeking out your type of business. This saves time and gets your business access to the best workers comp premium rates possible.
Shop around your policy
A good way to shop around your policy is by partnering with an independent insurance agent and let them do the shopping for you. It is not a good idea to switch carriers every year for a slight drop in workers comp premium. It is important to make sure your carrier is competitive with the current marketplace. The only way to find out is to shop around periodically.
Implement a Well-Documented Safety Program
A Well-Documented Safety Program is a great way to reduce the frequency and severity of the insurance claims your business files. It means your employees will get hurt less frequently and be more productive. A safety program does not have to be extensive in order to be effective. It does need to be regular and it needs buy in from the entire organization. The best way to get buy in is for the leadership of the business to prioritize safety and communicate that to staff frequently. Documentation of all meetings is important because it can help your agent negotiate lower rates at renewal and prevent steep increases after a year in which the business experiences several or one large claim.
Include a Return-to-Work Program
A Return-to-Work Program is a great way to show your employees you care about them, you value their contributions, and want them to remain a part of your organization. A return-to-work program should be well thought out and it should be put down in writing. It is important to have some key employees from all levels of your business be a part of the process of developing a return-to-work program. The program must include limited capacity work to get employees back on the job quickly. Employees who get back on the job quickly are more likely to return to full-time permanent work.
Report all Incidents Quickly
If you stay in business long enough, injured employees are going to happen. When incidents do happen, it is important to document everything that happened as quickly as possible. Incident reports are important for internal processing, but the Acord 130 Form is what needs to be filed with your insurance carrier within 24 hours of an incident.
Communicate Throughout the Claim Process
Injured employees have a lot to deal with. Making the process as smooth as possible is the responsibility of the business. Communication is key to getting your injured employee teh benefits they deserve and to get them back on the job quickly. Communicating with your insurance agent, insurance carrier, medical facility, and injured employee is crucial to a smooth process.