Why is it so hard to find affordable workers compensation insurance in the construction industry?
The construction industry in general is very difficult to locate reasonable options and rates when quoting workers compensation insurance.  A large majority of workers compensation providers no longer have an appetite for small construction or high hazard construction businesses.  Therefore, a lot of construction businesses default to the appropriate state fund or assigned risk pool for workers compensation coverage.
The state fund insurance or assigned risk is the most expensive option with the least flexible payment plan.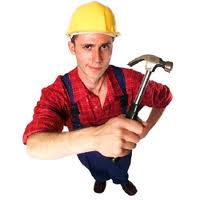 Factors that cause this difficulty include:
1.  General Construction Services – not specializing in 1 or 2 specific trades.
When a business does the same trade everyday the chances of a workers compensation claim is less likely.
2.  Height Exposure – workers compensation claims where the employee falls from a height in excess of 15 feet.
Historically the amount paid towards the claim is much larger than employees working 15 feet or lower.  Most workers compensation insurance carriers limit heights to 15 feet.  Anything slightly above 15 feet must show proper safety precautions taken.
3.  Unstable Industry – when the U.S. economy fell in mid-2000's, the construction industry suffered the most. 
Workers Compensation insurance carriers who insure construction businesses suffered claims combined with reduced premiums paid by employers due to fewer employees.
4.  Sub-contractors or 1099's – construction businesses are using more sub-contractors or 1099's instead of hiring as w-2 to cut cost and employers responsibilities. 
If a sub-contractor fails to pay their workers compensation premiums and the general contractor is not aware their policy cancelled, most likely the general contractor's workers compensation policy will be required to cover the claim.  Therefore, workers compensation companies do NOT like a large sub-contractor or 1099 exposure even if certificates of insurance are collected.
Ultimately workers compensation insurance comes down to profitability for carriers.  A lot of insurance companies lost money on the construction and contractor related segments of their book of business.  As a result, many carriers tightened their industry appetite to exclude or limit construction related NCCI classification codes.  The down side is contractors are paying more than ever for workers comp coverage and many have no option outside of the state's assigned risk pool.
Currently the insurance market is still firming as rates increase and risk taking decreases.  However, as insurance companies return to profitable positions it is likely to open up insurance options for the construction industry.  Guessing when that is going to happen is the million dollar question.