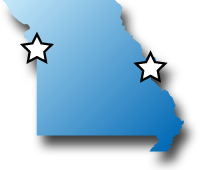 It's only taken a rallying cry of 8 years, tons of bad publicity, and an easily avoidable $28,000,000 debt – but the Missouri Senate has finally done something worthwhile regarding workers compensation.
Last week, Senate Bill 1 passed by a whopping 32-2 margin. Assuming it doesn't get messed up at the House level or once it hits Governor Jay Nixon's desk (still large assumptions), the law would fix the insolvency of the Second Injury Fund and also remedy a huge error the legislature made during 2005 reforms.
The most important fix revolves around the Second Injury Fund, which is currently somewhere in the neighborhood of $28M in debt to 713 workers who were legitimately entitled to receiving benefits from Missouri. Instead of protecting these injured workers (which was the primary reason the Second Injury Fund even exists), the state has simply turned a blind eye to these debts.
With this proposal, the state tax on workers compensation policies will raise from 3.5% up to 7%. While this may feel like a stiff increase for business owners purchasing work comp policies, it's still a vastly superior solution to the potential alternative – complete dissolution of the second injury fund. By all accounts, the increase should help bring the fund out of insolvency.
If the fund were to be absolved, it would place the burden of those claims back on insurance companies, which would in turn cause insurance companies to change or eliminate their willingness to write workers compensation altogether. Right now in Missouri, we enjoy a very competitive marketplace. The Insurance Shop represents 15+ carriers writing workers compensation in Missouri and I can tell you that they all compete with each other over pricing and obviously, that's a good scenario for the insured. If the second injury fund didn't exist, I would expect less competition and fewer carriers, which would ultimately drive up costs.
The second fix with this proposal brings toxic exposure diseases back into the workers compensation system. This is a critical fix to a major mistake made in the 2005 reform efforts to workers compensation that protects business owners. When this was removed in 2005, it opened businesses up to liability exposure in civil courts and basically eliminating the theory that workers compensation is the "sole remedy" for workplace injuries.
It's tough to give kudos to the state legislature for potentially getting this done (the House and Governor still have to pass it before it becomes law), since it's been an obvious and necessary solution for literally years … but at least they have finally pulled their heads out of the sand and worked out a compromise.