Here are the Best Practices for Handling a Workers' Compensation Claim
A Workers' Compensation Claim can be an enormous cost to your business if not handled properly. Having a safety program in place and having multiple employees ready to address this situation can be the difference between a claim being a small hiccup and an enormous cost to your business. This safety program should have strict instructions for how your employees should handle an injury, how, when and where they should help the injured employee get proper medical care, and how they should follow up with the injured employee as well as the insurance company.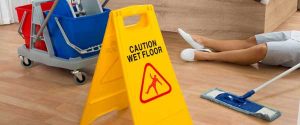 The carrier process the claim, not the agent
The Workers' Compensation Claim Process can be tricky if you do not prepare for it. When a claim occurs it is handled by the insurance carrier, not the insurance agent. It is a good idea to contact your agent when a claim occurs. They can help get you to the proper person at your carrier in order to speed up the process. They can also go to bat for you if your carrier is not living up to their responsibilities. That being said, do not be upset with your insurance agent if they are not much help when you have a claim. They should be able to get you the proper phone number to call and maybe the name of a person or two who you should try to contact within the organization, but more than likely that is going to be the extent of their help.
Make this process a part of your safety program
This process should be a part of your safety program. If you train your managers and employees about the workers compensation claim process they will be more prepared to navigate the system more efficiently when a claim does occur. You do not have to go in to detail with your employees about the workers compensation process, but they should know that they should not feel they need to hide injuries. They should also know who is the proper person to report the injuries to when they do occur. Your managers need to be able to handle the workers compensation process throughout. This is because there may be a time when they have to handle the claim because the owner or President is sick or on vacation.
Have a detailed return-to-work program
A return-to-work program can only run smoothly if it is well thought out and prepared for prior to experiencing an injured employee. One of the main reasons for having a return-to-work program in place is because humans are creatures of habit. Coming to work on a regular basis is part of their routine. The longer an injured employee stays out of work, the more likely they are to develop new habits in their daily life outside of work. The longer these habits have to develop, the more likely that injured employee is to never return to work. This is when a claim can get severely out of hand. When claims get out of hand it can have drastically negative effects on the experience modification rating of your business. This rating is one of the largest aspects of your business that insurance carriers use to determine how much to charge you for premium. It is also one of the few aspects that you have direct control of through having a successful safety program that includes a return-to-work program.